Dental Implants
Dental Implants in O'Fallon, MO
The dental implant is today's state-of-the-art tooth replacement method. It consists of a very small titanium post (the actual implant), which is attached to a lifelike dental crown. The crown is the only part of this tooth-replacement system that is visible in your mouth. The implant itself rests beneath your gum line in the bony socket that used to hold your missing tooth. Two, four or more implants can be used to support multiple crowns, or even an entire arch of upper or lower replacement teeth. Whether you are missing one tooth, several teeth or all your teeth, dental implants are preferred by doctors and patients alike. That's because dental implants are:

The longest-lasting tooth replacement: Because dental implants actually become part of your jawbone, they provide a permanent solution to tooth loss.
Able to prevent bone loss: When even one tooth is lost, the bone beneath it begins to resorb, or melt away. This can give your face a prematurely aged appearance and even leave your jaw more vulnerable to fractures if left untreated long enough (View Example). Dental implants halt this process by fusing to the jawbone and stabilizing it. No other tooth replacement method can offer this advantage.
How Many Teeth Can Be Replaced With Dental Implants?
You can replace a single tooth, multiple teeth or all your teeth with implants (View Examples). You don't even need one implant for every missing tooth. As few as two Implants can support a removable lower denture, while as few as four implants can provide a full, permanent set of top or bottom teeth.
Can Anyone Receive Dental Implants?
Dr. Logan will be happy to discuss whether you are a good candidate; however, there are some limitations. You must be in good health and have the proper bone structure and healthy gums for the implant to stay in place. People who are unable to wear dentures may also be good candidates. If you suffer from chronic problems, such as clenching or bruxism, or systemic diseases, such as diabetes, the success rate for implants decreases dramatically. Additionally, people who smoke or drink alcohol may not be good candidates.
What Can I Expect During This Procedure?
First, Dr. Logan performs surgery to anchor the "artificial root" into or on your jaw bone. The procedure is done in our office with local anesthesia. The gum is then secured over the implant, which will remain covered until it fuses with the bone. This usually takes about 3-6 months. The dentist then uncovers the implant and attaches an extension, or post, to the implant. With some implants, the implant and post are a single unit placed in the mouth during the initial surgery. Finally, the dentist makes an artificial tooth, or crown, that is attached to the implant post. It will be as if you never lost your tooth.
How Long Does The Process Take?
The process can take up to nine months to complete. Each patient heals differently, so times will vary. After the implant and posts are placed surgically, the healing process can take up to six months and the fitting of replacement teeth no more than two months. Sometimes, if a patient has good bone quality, posts can be placed and replacement teeth fitted in one appointment.
Do you need Dental Implants or would like to learn more? Call Dental Professionals of Dardenne in O'Fallon, MO at (636) 322-4010 for more information or to book an appointment today!
Related Articles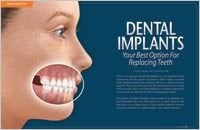 Dental Implants – Your Best Option For Replacing Teeth Dental implants have many advantages over older methods of tooth replacement like bridges and dentures — from the way they function and feel to the way they look and last. Vigorous research has documented and confirmed that in the right situations, dental implant success rates are over 95%. It is no exaggeration to say that they have revolutionized dentistry. They may even change your life... Read Article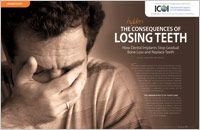 The Hidden Consequences of Losing Teeth For those missing even one tooth, an unsightly gap is actually the least significant problem. What's of far greater concern is the bone loss that inevitably follows tooth loss. Dental implants can preserve bone, improve function and enhance psychological well-being. Learn how implants serve both as anchors to support replacement teeth and preserve bone... Read Article