Zoom! In-Office Whitening
Zoom! Teeth Whitening in O'Fallon, MO
It's hard to imagine anything more appealing than a sparkling, white smile. Yet our teeth rarely stay as white as we'd like them to without a little help. Fortunately, that help is available at the dental office.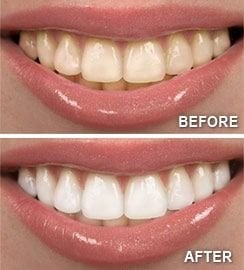 Teeth whitening done in a professional dental setting is a safe, effective way to brighten your smile. It's also perhaps the most economical cosmetic dental procedure. Depending on the whitening method you choose, results can be dramatic: in-office whitening, for example, can lighten teeth three to eight shades in a single hour.
Professionally supervised whitening will work faster, and protect sensitive gums and tooth-root surfaces better, than over-the-counter whitening products. Having an oral exam before you begin any whitening process is an important first step to make sure your tooth discoloration is not the result of a dental condition in need of treatment. Also, please be aware that it can be risky to have whitening solutions applied to your teeth by untrained personnel in shopping malls. If you have any questions about which whitening method would be best for you, talk to us first.
Professional Teeth Whitening Methods
Professional whitening makes use of high-concentration bleaching gels that are not available over the counter.
In-Office Teeth Whitening — This technique offers the fastest results with the most powerful whitening solutions available. First, your gums and tooth-root surfaces will be covered with a protective barrier to ensure your safety. A thin plastic device known as a retractor will hold your lips and cheeks away from your teeth as a professional-strength hydrogen peroxide gel is applied. The gel will be left on for about an hour. When it is removed, the results will be obvious immediately.
Take-Home Teeth Whitening — This is another effective way to whiten your teeth, though you will play a greater role in ensuring the best possible results and several weeks may be needed to achieve your desired level of whiteness. First, a mold of your teeth will be taken and then two thin, flexible plastic mouth trays will be custom-made for you — one for the top teeth and one for the bottom. You will fill the trays with whitening gel and then position the trays over your teeth. The trays are left in usually for about an hour at a time.
Caring for Your Whitened Smile
There are lots of things you can do to make sure your whitening results last as long as possible, and this will vary from person to person (six months to two years or even longer). First of all, please maintain your usual, conscientious routine of brushing and flossing every day, and keep up with your regular schedule of professional cleanings at the dental office. Avoid foods and beverages that stain, including red wine, tea and coffee. If you smoke, use your newly whitened teeth as an impetus to quit — a good idea in any event! A minor touch-up every so often, either at home or at the dental office, can keep your smile bright and beautiful for years.
Are unsightly stains ruining your smile? Dental Professionals of Dardenne may have the solution for you: Philips Zoom! Philips Zoom is a quick and safe way to effectively whiten your teeth.
Recommended by both dentists and patients alike, the Zoom Light-Activated Gel can give you a dramatically whiter smile in no time. The gel is activated by our Whitening LED Accelerator, which together, gently removes the stains from the surfaces of your teeth. In fact, your teeth can become 8 shades whiter after only 45 minutes in our office.
Is Philips Zoom right for you?
Most people can benefit from a whiter smile. Having whiter teeth can make you feel and look better. It can also boost your confidence and self esteem. However, Philips Zoom may be more effective for some individuals than others. People who have staining due to aging, coffee, tea, wine, and tobacco will notice the biggest differences. However, if you have grey staining due to tetracycline or other chemicals, your results may be less noticeable. Your dentist will thoroughly examine your teeth to determine the appropriate amount of whitening necessary to achieve desired results.
Brighten your smile today with professional teeth whitening treatment at Dental Professionals of Dardenne. Call our O'Fallon, MO dental office today at (636) 322-4010 to schedule your appointment!
Related Articles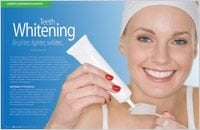 Teeth Whitening – Brighter, lighter, whiter... The subconscious impact of a white smile is radiant health, happiness, warmth and invitation. This phenomenon has been reinforced with the spread of American culture worldwide, where an especially white smile has even been coined a "Hollywood smile." Today brighter, lighter, whiter teeth have become a norm. Tooth whitening by bleaching is a successful, conservative, relatively inexpensive and safe alternative... Read Article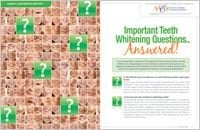 Important Teeth Whitening Questions Answered! In this Dear Doctor magazine article, questions are answered about bleaching techniques and safety in achieving the best possible results. If you are thinking about getting your teeth whitened at your dentist's office or doing it yourself at home, this is a must-read... Read Article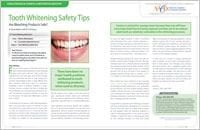 Tooth Whitening Safety Tips Tooth whitening is a relatively inexpensive way to enhance your smile, and many studies have confirmed that tooth whitening products are safe when used as directed. Still, there are some things you need to know before you begin the whitening process... Read Article